Goodwin's Country Crafts
A Family Business... Crafting Since 1995...
---
---
[See Craft Fair Calendar & Photo Links Below]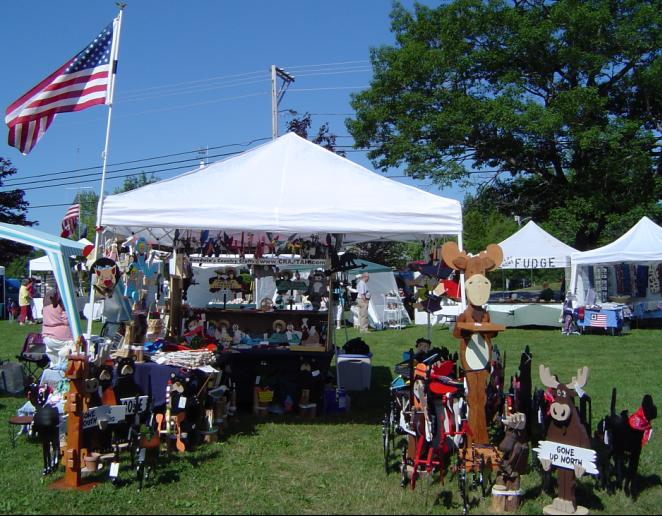 Goodwin's Country Crafts
A Family Owned And Operated Business...
All the crafters who create the items GCC crafts are family members.
Quality control is placed in every step of the process, as it has been since we started crafting in 1995. That includes our inspection and requirements for the materials we use, like the wood, paint, metal, etc. We strive every day, every order, every craft creation to make our product the best we can while keeping the cost down. We always try hard to keep the quality high and the price competitive - preferably low.
We try to keep our production schedule more to our two week standard based, of course, on the amount of orders coming in. The priority is always that the crafts be "homemade" and created in a small-family-workshop way.
Quality of product will ALWAYS come first over demand and rush to get any product out.
The hope is that customers will understand that creating an item right is much better than just creating an item fast.
So, our request, that since we are but a small family run business and thus will tend not to rush out orders, please consider your craft needs, the time it may take to create those crafts and place your orders early enough so that you can enjoy them in a timely manner.
A Word About The Internet:
The main reason Goodwin's Country Crafts is just getting to the Net is the possiblity for numerous orders coming in at any one time, and customers getting items later than we ever intended due to those numerous orders. So this site is nothing fancy, no web ordering, no online shopping, just the ability to see us, see our product, get to know what, how and why we enjoy making crafts for you.
Also, please feel free to contact us whenever you have a quality craft need you think we might be able to help you with...
---

GCC Craft Fair Calendar


Photos: Some New Stuff


Photos: GCC At Craft Fairs

Photos: Standing Bears, Moose & Signs

Photos: Outdoor Crafts

Photos: Whirligigs

Photos: Yard Shadows, Silhouttes, Black Figures

Photos: Swings & Smoking Posts

Photos: Holiday Crafts

Photos: Common Crafts GCC Makes
---

Contact Info:

Goodwin's Country Crafts
Donald Goodwin, Master Wood Crafter
Dorothy Goodwin, Painting & Detailing
Delinda Goodwin, Fine Detail Painter
Dale R. Goodwin, Painting, Delivering, Managing

GCC.CRAFTAH.com
207.408.7520

CRAFTAH, LLC
PO Box 11
Pittsfield ME 04967-0011

dale@CRAFTAH.com

Find More Craft Information on: www.CRAFTAH.com
This Web Site was created by Dale R. Goodwin © 2014, 2013, 2012, 2011, 2010, 2009, 2008, 2007, 2006, 2005, 2004
All photos and site design were created by Dale R. Goodwin
of Goodwin's Country Crafts & CRAFTAH, LLC and all is proprietary and copyrighted.

Revised: 05.08.2014